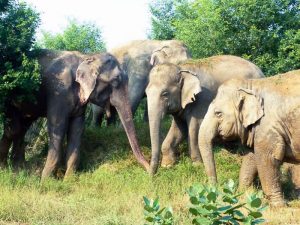 Raju is just one of many elephants who have been rescued from a life of hardship by Wildlife SOS in India, and by numerous non-profit organizations across the globe. There are still many, many more elephants and other formerly wild animals just waiting to be freed from their life of captivity.
Individuals, both children and adults, can make a difference in the lives of these animals by supporting animal welfare organizations in a number of ways. PETA (People for the Ethical Treatment of Animals), utilizing petitions with thousands of individual signatures, has been able to put an end to the exploitation of elephants in circuses and of killer whales in live shows at aquariums parks. With enough concerted effort, we can all work together to end animal abuse throughout the world.
There are many wildlife conservation organizations working locally, nationally and worldwide to free or protect our vulnerable wildlife, and they need the help of all of us to fulfill their mission. You will feel empowered knowing you are making a difference in contributing to the end of animal suffering.
Here are some ways you may contribute and get involved:
sign animal rights petitions and share them on social networks

write letters to your state and national representative

sell crafts or hold a bake sale to raise funds to donate to animal organizations

earn money to donate by doing extra chores around your home and neighborhood

volunteer at your local animal shelter

write a story for your local newspaper, and post it on social networks, describing the plight of animal suffering and how we can help

sponsor an elephant or other animal at an animal sanctuary

visit and volunteer at animal sanctuaries such as Wildlife SOS in India
Click HERE for just a few of the many organizations and sanctuaries that rescue and care for captured wildlife. Click HERE for many more organizations worldwide. You may also search online for volunteer opportunities with your local animal conservation groups and shelters.